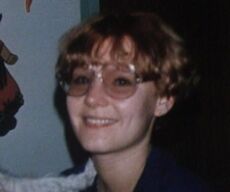 Real Name: Darleen Messer
Nicknames: No known nicknames
Location: Lake City, Florida
Date: September 18, 1989

Details: On September 18, 1989, thirty-six-year-old Darleen Messer was abducted from the convenience store where she worked. Investigators discovered that the store had been robbed and that she had struggled with her assailant(s). Two days later, she was found in a creek; she had been bludgeoned to death. Her murder remains unsolved.
Suspects: Darleen is believed to have been murdered by a serial killer who is believed to have killed two other missing Florida clerks: Deborah Poe and Donna Callahan.
Extra Notes: This case first aired on the November 6, 1991 episode. One report states that Darleen was shot, not bludgeoned.
Results: Unresolved. Donna's remains were later found and two men were convicted of her murder. There is a suspect in Deborah's disappearance, but he has not been charged with it. Her disappearance and Darleen's murder remain unsolved. It is possible that her murder was connected to the murder of another clerk, Eileen Mangold.
Links:
---
Ad blocker interference detected!
Wikia is a free-to-use site that makes money from advertising. We have a modified experience for viewers using ad blockers

Wikia is not accessible if you've made further modifications. Remove the custom ad blocker rule(s) and the page will load as expected.