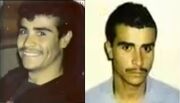 Real Name: Daniel Piñeda
Aliases: Danny Pinetta
Wanted For: Rape
Missing Since: November 1991

Details: In the summer of 1991, thirteen year old Lancaster, Pennsylvania resident Nanette Brana began dating nineteen year old Danny Piñeda, a track star. The relationship was fine at first, but Danny soon became too possesive over Nanette and she decided to end the relationship. A few weeks later, on November 13, 1991, while Nanette was walking home from school, Danny maced her, grabbed her, and then raped her.

Nanette was found by a police officer and Danny soon went on the run. After he vanished, Danny's friends and family members began harassing Nanette and her family. Nanette says that she will not feel safe until Danny is arrested.
Extra Notes: This case originally aired on January 12, 1994.
Results: Captured. Piñeda was arrested in Puerto Rico on the night of the broadcast. He pleaded guilty to rape and was sentenced to 10-15 years in prison. He was paroled after serving seven years. Today, Nanette still lives in Philadelphia and is now married with four children.
Links:

---