Real Name: Daniel Short
Nicknames: Dan
Location: Noel, Missouri
Date: October 6, 1989
Details: Fifty-one-year-old Dan Short was the manager of the local bank in Noel, Missouri. He vanished after it was robbed of $70,000, on October 5, 1989, so he became the first suspect in the case. However, the investigation changed on October 11 after his body was found taped to a chair and floating in Grand Lake, twenty miles from the bank. He had apparently been dropped in the water while he was still alive. The state police were now not only searching for bank thieves but also cold-blooded killers. Investigators found that Dan was friendly with most of his customers and appeared to have no known enemies. They discovered that he, who lived in an isolated home eight miles from town, had a guest over his house the night he was killed, who left at around 11pm. The investigators believe that the killers abducted him between 11pm and 1am from his house. They believe that he and the killers arrived at the bank at around 2am, and that they forced him to turn off the alarm and unlock the doors. They damaged the cameras and then forced him to open the vault. In the end, they took the $70,000 in there. Witnesses heard one of them shooting at one of the cameras at around 3am. At a certain point, they ditched Dan's pickup truck and placed him in a van and in the chair. Authorities believe that he was unconscious but alive at the time he was thrown into the river. Witnesses saw a dark van on the bridge which they believe he was thrown from at around 6am, but it sped off before they could obtain a license plate number. The killers remain at large.
Suspects: There were none at the time the case was broadcast, although some people believed that the killers may have been people who were angered with the bank and had taken it out on Dan.
Extra Notes: This case first aired on the March 21, 1990 episode. Dan's murder was also documented on Forensic Files, The FBI Files, and Swamp Murders.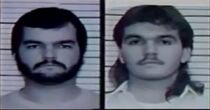 Results: Solved. Fingerprints found on a wad of tape used to bound Dan to the chair and a cartridge shell implicated brothers Shannon and Joseph Agofsky. They were arrested in March 1992. They were convicted of his murder and sentenced to life in prison. In March 2013, Joseph died in prison from unknown causes at the age of 46, and Shannon is on death row for the 2001 murder of a fellow prison inmate.
Links:
---
Ad blocker interference detected!
Wikia is a free-to-use site that makes money from advertising. We have a modified experience for viewers using ad blockers

Wikia is not accessible if you've made further modifications. Remove the custom ad blocker rule(s) and the page will load as expected.