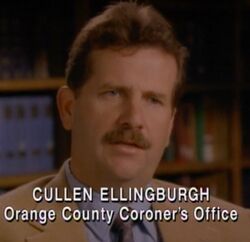 Real Name: Cullen Ellingburgh
Occupation: Deputy Coroner
Place Of Birth: Unrevealed
Date Of Birth: Unrevealed
Location: Orange County, California
Background: Cullen Ellingburgh is a Deputy Coroner for the Orange County, California police department and has worked on nearly 1000 cases of unidentified victims. Some take months of research, while others only take one piece of evidence. Such was the case of an unidentified murder victim that he worked on in 1985. Cullen checked on the man's clothing and found that he had a buckle on him, that had the name of a company in Alaska that manufacturers drill bits for an oil well. He called them and found that the buckle was an award for "Employee of the Year" that was given out for only five years; the body was identified because of that. However, some victims, like the 1987 Jane Doe, remain unidentified despite years of research.
Case Files:
Notes: This case first aired on the January 20, 1995 episode about coroners also featuring coroner Joe Luckey. Cullen Ellingburgh is now retired from the Orange County Coroner Office.
Links:
---
Ad blocker interference detected!
Wikia is a free-to-use site that makes money from advertising. We have a modified experience for viewers using ad blockers

Wikia is not accessible if you've made further modifications. Remove the custom ad blocker rule(s) and the page will load as expected.