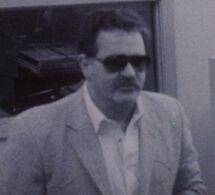 Real Name: Unknown
Aliases: None Known
Wanted For: Robbery
Missing Since: April 18, 1990

Details: Since 1987, a mustached figure in cowboy boots has robbed over nine banks, getting away with more than $400,000. Six of the robberies have taken place in the Pacific Northwest, while at least three have taken place in the Southwest.
On September 19, 1987, the robber entered a bank in Spokane, Washington, and immediately pulled out a gun. He demanded money from the tellers, and appeared calm and well-prepared. He showed them that he had a police scanner which would let him know if one of the tellers alerted the police. He ordered everyone into the vault and stole more than $100,000 from there. The robbery lasted less than five minutes. He did not leave behind any fingerprints and avoided being caught on camera.
On August 30, 1988, the robber stole $14,000 from another Spokane bank. However, a dye-pack had been placed in the bag, which went off shortly after he left. A witness observed him enter a vehicle and escape. After another robbery in November 1988, bank employees were able to help make composites of the robber. However, authorities still hoped to get a photograph of the robber.
On June 6, 1989, he attempted to rob Spokane's Horizon Federal Credit Union; however, the bank tellers stood up to him and his threats. After taking money from the vault, the robber had the tellers empty their drawers. One of the tellers pulled money from a bill trap, which activated the silent alarm. This trap also activated the bank's surveillance camera. For the first time, the robber was captured on film.
With the help of the surveillance photographs, investigators were able to link the robber to at least three bank robberies in Tucson, Arizona. However, he remains unidentified and at large. At the time, he appeared to be between thirty-five and forty-five years of age, was between 6'0" and 6'2" in height, weighing between 200 and 220 pounds, and was tan. It is believed that he lives somewhere in the Southwestern United States and commutes to banks in the Pacific Northwest.
His most recent heist occurred on April 18, 1990, at a bank in Tacoma, Washington.
Extra Notes: This segment originally ran on the November 14, 1990 episode.
Results: Wanted. In June 1992, the robber allegedly held up Spokane's Horizon Federal Credit Union again. However, he once again escaped without being identified or apprehended.
Links:
---
Ad blocker interference detected!
Wikia is a free-to-use site that makes money from advertising. We have a modified experience for viewers using ad blockers

Wikia is not accessible if you've made further modifications. Remove the custom ad blocker rule(s) and the page will load as expected.