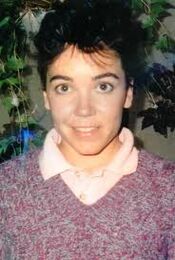 Real Name: Colleen Reed
Nicknames: No Known Nicknames
Location: Austin, Texas
Date: December 29, 1991

Occupation: Certified Public Accountant
Date of Birth: 1963
Height: Unrevealed
Weight: Unrevealed
Marital Status: Dating
Characteristics: Caucasian female. Brown hair, green eyes.

Details: At around 9:10 pm on the night of December 29, 1991, twenty-eight-year-old Colleen Reed was abducted from a 24-hour car wash in Austin, Texas. She had withdrawn cash earlier that day before ending up at the car wash alone. Three young local friends, Steve Marks and Mike and Bill Goins, said they might have seen her kidnapper's car, a tan Ford Thunderbird.
At 8:55 pm, Steve Marks was on his way to meet his two brothers-in-law at a friend's house on Powell Street. Less than a block from the house, he pulled behind a tan Ford Thunderbird driving very slowly. He followed it down the street to the front of his friend's house where it had pulled up into the parking garage ahead of him.
Mike and Bill Goins said they encountered the same car two blocks from the house going on the wrong way on an one way street. The car drove out of their way, and they proceeded toward their friend's house. At 9 pm, they met Steve outside of the friend's house, which was just 200 feet from the car wash.
Shortly after 9 pm, they heard screaming and a car door slam as the Thunderbird pulled the wrong way onto Fifth Street. A few seconds later, Steve and Bill arrived at the car wash to investigate and discovered Colleen's deserted white Mazda MX-5 inside a stall with her purse and the keys inside it. Police believe she might have been followed from the bank.
Suspects: The two men in the tan Ford Thunderbird are considered the prime suspects in Colleen's abduction.
Extra Notes: The case was featured as a part of the April 29, 1992 episode.

Results: Solved. Serial killer Kenneth McDuff was subsequently identified as having abducted, raped, and tortured Colleen with the help of an accomplice, Alva Hank Worley, who was arrested in Belton, Texas. Worley quickly admitted having been involved in the kidnapping, but he claims at the last time he saw her, she was alive. He pleaded guilty and is now serving a forty-year sentence. He has been denied parole several times; he will next become eligible in 2021.
McDuff was captured in 1993 and tried in January 1994. A jury convicted him of her murder. He led police to her body, located in a shallow grave in Waco, shortly before his execution in November 1998. The body was recovered on the banks of the Brazos River, just outside of Marlin, Texas, the county seat of McDuff's native Falls County, Texas.
Links:
---
Ad blocker interference detected!
Wikia is a free-to-use site that makes money from advertising. We have a modified experience for viewers using ad blockers

Wikia is not accessible if you've made further modifications. Remove the custom ad blocker rule(s) and the page will load as expected.