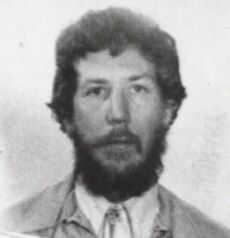 Real Name: David and Doris Young
Case: Unexplained Phenomenon, Hostage Situation, Accidental Bomb Explosion
Date: May 16, 1986
Location: Cokeville, Wyoming

Details: David Young was a deranged former cop who made national headlines when he and his wife, Doris, invaded a classroom at Cokeville Elementary School and held 154 children and teachers hostage with a crudely built homemade bomb. Young believed the school was actually brainwashing the kids and demanded two million dollars for each of them. Otherwise, he said he would explode the bomb and lead them to a brave new world. It was wired to Doris's arm, but when she gestured too far, it went off setting her on fire and exploding the room. Young committed suicide before he could be captured.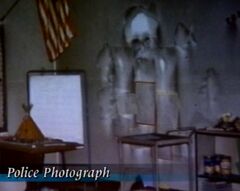 Incredibly, not a single child or teacher was killed in the blast, although 79 were injured. It was believed the bomb was so poorly created that it could not have done much damage. However, many of the younger kids spoke of seeing "angels". A mysterious photo of what appeared to be one on the north wall proves to many that some were there that day.
Extra Notes: This case first aired on the December 13, 1996 episode. B-Movie horror icon Bill Moseley portrayed David Young in the episode. It inspired the book When Angels Intervene To Save The Children: The Cokeville, Wyoming Bombing Incident by Hart Wixom. It was followed by the movie To Save The Children starring Richard Thomas and Robert Ulrich. The case was featured on the show Unexplained Mysteries and I Survived. In 2015, a film, Cokeville Miracle was released based on the
Results: Unsolved. Both David and Doris were killed in the explosion.
Links:
---
Ad blocker interference detected!
Wikia is a free-to-use site that makes money from advertising. We have a modified experience for viewers using ad blockers

Wikia is not accessible if you've made further modifications. Remove the custom ad blocker rule(s) and the page will load as expected.