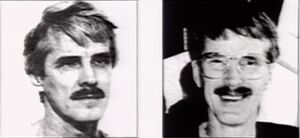 Real Name: Charles Warren Boomer
Aliases: "The Satchel Bandit," Robert Taylor
Wanted For: Armed Robbery
Missing Since: September 1991
Details: Charles Boomer is wanted for the armed robbery of several banks in Oregon, Washington, and British Columbia. He was nicknamed by police the "Satchel Bandit" because he wore a satchel that he put the money that he stole in, and always wore cheesy disguises. He had also been known as "Robert Taylor." He married Rachel Taylor, a deaf-mute woman with learning disabilities, but when he learned that police were closing in on him in September 1991, he went on the run again and sent Rachel to a police station with a letter telling police that she should not be held responsible for the crime.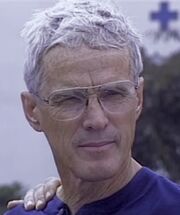 Extra Notes: The case was featured as a part of the February 19, 1992 episode.
Results: Captured. Boomer was arrested in Hamilton, Ontario restaurant on June 26, 1992. He was convicted of thirty-three robberies and sentenced to 45 years in prison. Charles Boomer was eventually paroled in November 2011 at the age of 75.
Links:
---