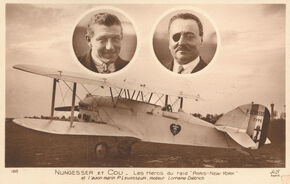 Real Name: Charles Nungesser and Francois Coli
Case: Disappearance
Date: May 8, 1927
Location: Paris, France to New York City, New York

Details: Nungesser and Coli were two trained WW1 pilots who designed and built the The White Bird, a Levasseur PL.8 bi-plane based on a PL.4 reconnaissance aircraft, built for a flight from Paris to New York City in one of the earliest pre-Lindbergh trans-Atlantic flights. They departed from Le Bourget Field in Paris across the English Channel, over the southwestern part of England and Ireland and then across the Atlantic for a water landing in New York. They were sighted over the French coast, over Carigaholt, Ireland and then for the last time off the Irish coast by a British naval officer. Despite false reports of their arrival in America by French newspapers, the plane and pilots were never seen again.
In the 1980s, interest that the pilots had crashed in Maine began to circulate. A hermit on Round Lake claimed to have heard a sputtered plane he could not see. Others also came forward to testify to hearing a crash in the vicinity. It would appear that the plane had made it to Nova Scotia and had come down the coast. The French government launched a investigation, and Nungesser's nephew came to search the woods. Bits of wooden struts were found that were not familiar to the area, and two residents claimed that a large motor had been dragged out of the woods for salvage on a logging operation. The only thing not found were bodies or the plane's large aluminum fuel tanks.
Extra Notes: This segment was featured on the May 3, 1989 episode of Unsolved Mysteries. Nungesser and Coli were referenced in the movie, Restless Spirits.
Results: Unsolved. A French analysis theorizes that the pilots ran out of fuel and were forced to crash the plane, proving that they had crossed the Atlantic between May 8 and May 9, 1927. Researchers have revealed that during a three month span thirty ships were ordered to search for pieces of the wreck, floating between Boston and Saint Pierre, and suspected pieces were found. New archives are being formed to confirming this hypothesis with the help of Erik Lindbergh and William Nungesser, two important supporters
Links:
---
Ad blocker interference detected!
Wikia is a free-to-use site that makes money from advertising. We have a modified experience for viewers using ad blockers

Wikia is not accessible if you've made further modifications. Remove the custom ad blocker rule(s) and the page will load as expected.