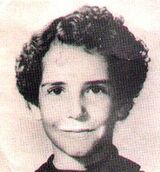 Real Name: Charlene Marie Richard
Case: Medical Mystery/Miracles
Location: Lafayette, Louisiana
Date: August 11, 1959

Details: In 1959, twelve year old Charlene Richard was gravely ill with cancer. A devout Catholic, she spoke with Father Brennan, a priest at a local church, and agreed to offer up her own pain and suffering in prayer to God for the benefit of others. She passed on August 11, and since then, her grave has become a holy shrine for Christians, and many have claimed that after they prayed to Charlene, they or one of their loved ones have been healed of illness or injury. A teen named Tera Lloyd claimed that when she was very ill with cancer, she went to Charlene's grave in hopes of having a miraculous recovery. When she and her family visited the gravestone, Tera immediately felt better and she soon discovered that her cancer had gone into remission. The Lloyds believe that visiting Charlene helped Tera recover.
Extra Notes: The case was featured as a part of the June 11, 1999 episode.
Results: Unsolved
Links:
---
Ad blocker interference detected!
Wikia is a free-to-use site that makes money from advertising. We have a modified experience for viewers using ad blockers

Wikia is not accessible if you've made further modifications. Remove the custom ad blocker rule(s) and the page will load as expected.