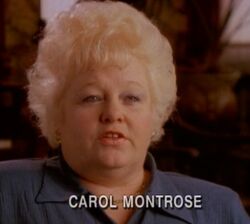 Real Name: Carol Montrose
Case: Unusual Phenomenon/Psychic Communication
Location: New Albany, Ohio
Date: 1988

Details: A genealogist, Carol Montrose, was trying to search for information about Katherine Ruddy Stegmeier, who she believed might be her great-great aunt. She was hoping information on Katherine would lead to information on her great-great grandfather. However, she was unable to find the date of Katherine's death or her final resting place.
On a beautiful Sunday afternoon in the fall of 1988, Carol and her son were searching through cemeteries in the area she believed Katherine was buried. While driving, they saw a hot air balloon in the sky and began following it. The balloon looked like it was landing behind a brick church with a cemetery across the road. She decided to check out the cemetery while her son was admiring the balloon.
In the front of the cemetery was a stone for a baby son of Katherine. Near the back of the cemetery, Carol located the grave-site of her great-great aunt, Katherine. Carol believes the balloon led her to find her relative's grave.
Extra Notes: The case was featured as a part of the January 6, 1995 episode.
Results: Unsolved. Carol still lives in Ohio, helping people find their ancestors and family history.
Links:
---
Ad blocker interference detected!
Wikia is a free-to-use site that makes money from advertising. We have a modified experience for viewers using ad blockers

Wikia is not accessible if you've made further modifications. Remove the custom ad blocker rule(s) and the page will load as expected.