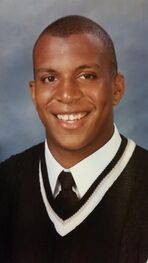 Real Name: Carl Evan Yancey
Nicknames: No known nicknames
Location: Brockton, Massachusetts
Date: September 28, 2014

Details: Thirty-one-year-old Carl Yancey was killed in a hit-and-run accident on September 28, 2014, in Brockton, Massachusetts. He had just finished his job at Shaw's grocery store at the corner of Belmont and West Street, when he crossed the street to go to the 7-11. At 9:22pm, as he was doing so, he was struck and killed by an unknown driver. The driver sped away and has never been located.
Suspects: Surveillance video captured the suspect's vehicle leaving the scene. It is believed to be a silver or gray minivan that would now have front end damage. Both it and its driver has never been identified.
Extra Notes: This case was uploaded to the Unsolved Mysteries website on December 12, 2014. The person interviewed in the video is Carl's mother, Daryl Ellison.
Results: Unsolved
Links:
---
Ad blocker interference detected!
Wikia is a free-to-use site that makes money from advertising. We have a modified experience for viewers using ad blockers

Wikia is not accessible if you've made further modifications. Remove the custom ad blocker rule(s) and the page will load as expected.