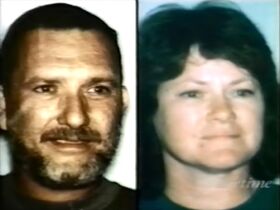 Real Name: Carl and Mary Dennie
Aliases: Mary Alvey
Wanted For: Fraud
Missing Since: January 12, 1995
Details: Carl and Mary Dennie aren't the typical couple. In April of 1992, Mary claimed that her boat, "The Sly Fox," had sank and attempted to file an insurance claim. Mary claimed that she and her son were sailing in the Gulf of Mexico when the boat met with an accident and they were saved by a Mexican fisherman. She planned to collect $90,000. A suspicious insurance investigator located Carl's home in Mexico, broke into the home and stole U. S. Coast Guard Documentation documents which proved that the boat, which was previously owned by Carl, was in Mexico and had not sunk. The investigator then traveled to the marina where the boat was moored, and discovered the boat's lone occupant, Mary's 76 year old aunt, aboard the boat. The investigator then forced his way aboard the boat and seized documents from the vessel. The investigator then contacted Mexican police. Although the Mexican authorities couldn't locate Mary, they found Carl who operated a dive business in Mexico. They further established that Carl & Mary were divorced. Carl was arrested for ilegal possession of ancient artifacts found at his home, fined and and released. In 1994 Carl was charged with aiding and abetting Mary in the boat insurance scam.
For more than a year Mary eluded authorities. Mary later arrived in Colorado living there under the name of Mary Dennie and began more scams, now involving life insurance. Carl Dennie was never implicated nor charged in the life insurance "scam".
Mary was arrested and plead guilty to two counts of fraud, and received concurrent 20 month sentences. Carl Dennie remained at large. Then, on January 12, 1995, just six months before she was scheduled to be released, Mary left prison on a day pass and came to Carl's home in Mexico.
Extra Notes: This segment ran for the first time on December 1, 1995.
Results: Captured. On the night of the broadcast, several viewers reported seeing the Dennies in Tecate, Mexico. On February 23, 1996, they were arrested outside Carl's home and six months later were brought back to the United States. Mary was returned to Florida where she was released for time served. Carl was charged with mail and wire fraud. Charges were dismissed upon his return.
Links: None
---