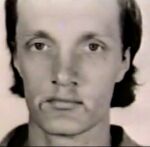 Real Name: Carl Alfred Eder
Aliases: None Known
Wanted For: Murder, Escape
Missing Since: 1974

Details: In November of 1958, Thomas Pendergast was driving to El Cajon, California when he picked up a 16-year-old hitchhiker named Carl Alfred Eder and let him stay with his family. On December 12, 1958, Thomas left for work, and during the day, Carl murdered his entire family. He claimed it was because one of the children was annoying him and he flipped out. Thomas' wife Lois, 4-year-old Diane, 2-year-old Allen, 6-year-old Thomas Jr., and 9-year-old David were all stabbed and slashed to death by Carl.

He was arrested two days later, convicted of first degree murder, and was sentenced to two life terms. Then, in 1974, he walked out of a minimum security prison in California and has not been seen since.
Extra Notes: The case first aired on the February 8, 1989 episode.
Results: Wanted
Links:
---