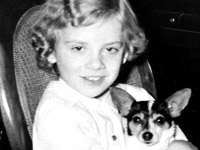 Real Name: Candice Elaine Rogers
Nicknames: Candy Rogers
Location: Spokane, Washington
Date: March 6, 1959
Details: On the evening of March 6, 1959, nine-year-old Candice "Candy" Rogers vanished while selling Camp Fire mints near her home in Spokane, Washington. Two weeks later, her body was found in the woods, where it was determined that she had been kidnapped on the street corner, raped, and strangled to death with a piece of her own slip and buried under a pile of faded pine needles. Never before has Spokane or its 230-man police force been so stirred by a case.
Police found six boxes of mints scattered near a bridge in the 12 hours that followed the disappearance, then ran into a blank wall despite 750 tips from substantial citizens, skid row bums and tea leaf readers. Three searchers in an Air Force helicopter were killed in a crash. Thousands of volunteers combed the canyon below Candy's home, scoured along the banks of the canyon's Spokane River, checked garages, old cars and—with apologies before hand—home of reputable residents. They found nothing. Television appeals by Catholic and Episcopal bishops produced not a trace. Then came an unexpected break. Two en-listed men from Fairchild Air Force Base, Howard S. Lawrence, 19, and Richard Bergan, 21, found a small pair of blue suede shoes Saturday while hunting woodchucks in remote woods 12 miles from town, northwest of where the search had been concentrated. They told police, who checked the shoes with Candy's grandfather, S. E. Newton, a fuel dealer. He had seen them before At dawn Sunday, a half dozen officers gathered at the scene of the airmen's discovery. A patrolman spotted a knee sticking out from under a pile of faded pine needles. He brushed them away carefully. "No use going any further—here she is," said Inspector Robert Piper, who personally had run down scores of fruitless leads since the search began.
Suspects: Hugh Bion Morse was the prime suspect in the case until DNA evidence in 2001 proved he wasn't responsible. Alfred Graves is also considered a suspect, along with James Howard Barnett, but both men have since committed suicide.
Extra Notes: The original airdate of the case is unrevealed.
Results: Unsolved
Links:
---
Ad blocker interference detected!
Wikia is a free-to-use site that makes money from advertising. We have a modified experience for viewers using ad blockers

Wikia is not accessible if you've made further modifications. Remove the custom ad blocker rule(s) and the page will load as expected.