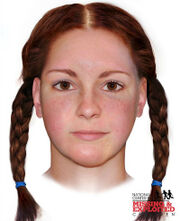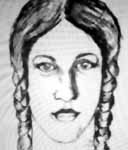 Real name: Unknown
Nicknames: Buckskin Girl
Location: Troy, Ohio
Date: April 24, 1981

Details: On April 24, 1981, the body of an unidentified female aged 18 to 26 was found alongside a road in Troy, Ohio. She had died between one and two days prior.
She had been strangled and beaten. The victim wore a distinct deerskin poncho that led to her nickname.
Suspects: Ohio Prostitute Killer, who was possibly a man that went by "Dr. No" on a CB Radio that may have preyed on prostitutes in the area. She may have been the first victim of the murders, which took place until 1990. Some suggest Buckskin Girl was a victim of domestic violence and she may not be connected, as there was no evidence she was a prostitute, She only appeared briefly on the episode and was described as "a woman who has never been identified."
Extra Notes: This case was not been featured on Unsolved Mysteries
Results: Unresolved. Buckskin Girl has since been reconstructed many times over and her case has since been taken on by the National Center for Missing & Exploited Children. Pollen testing indicated she traveled across the country and isotope testing indicated she grew up in the Northeastern part of the United States or perhaps Canada.
Links:

---
Ad blocker interference detected!
Wikia is a free-to-use site that makes money from advertising. We have a modified experience for viewers using ad blockers

Wikia is not accessible if you've made further modifications. Remove the custom ad blocker rule(s) and the page will load as expected.