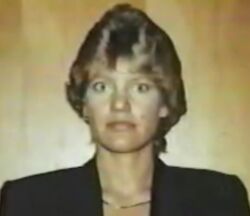 Real Names: Brenda Penniger and Nadine Castelle
Nicknames: No known nicknames
Location: Washington
Date: December 1990

Occupation: Unrevealed
Date of Birth: Unrevealed
Height: 5'9 (Brenda) / 5'5 (Nadine)
Weight: 145 pounds (Brenda) / 125 pounds (Nadine)
Marital Status: Dating (Brenda)
Characteristics: Caucasian females (Both). Blond hair, blue eyes (Brenda). Black hair, dark eyes (Nadine),

Details: FBI investigators trying to determine the true identity of Jose Antonio Gonzalez who robbed several banks in December of 1990 in Anchorage, Alaska. He was arrested in Redmond, Washington, on December 14, but he refuses to reveal his real name. Investigators believe that two women are key to determining his identity: his girlfriend Brenda Penniger and a woman named Nadine Castelle, who are now missing.
After Gonzalez was arrested, his car was impounded by the Redmond police. The next day, Nadine arrived and tried to claim the car. However, the worker told her that she could not get his car without an "authorization for release" from his attorney. Investigators learned that she had been an intimate acquaintance of Gonzalez, and that the two had known each other since 1987. At times, she has introduced him as her brother, her lover, or her friend. Although she never had a job, she always drove expensive cars and always wore expensive clothes. This has led investigators to believe that she was an accomplice in the robberies and has used the money to pay for her extravagant lifestyle. She is believed to be the person that arranges and acquires identification for Gonzalez. She is a French national that has lived in London. She sometimes uses the last names of "Gotan" and "Cartel".
Brenda was Gonzalez's girlfriend at the time of the robbery. A few days after he was arrested, she arrived at the impound lot with all of the correct papers. The FBI anticipated her arrival, so they asked the impound lot attendant to serve her with a subpoena. Three days later, the car would be found 2400 miles away in a parking lot at the Newark, New Jersey airport. Brenda has not been seen since.
Suspects: None known
Extra Notes: The case was featured as a part of the September 29, 1993 episode.
Results: Solved. After the broadcast, Brenda Penninger and Nadine Castelle were located by authorities, but they were never charged in connection with the robberies. Jose Gonzalez was eventually identified as Milorad Zivkovic, a French national. After serving his sentence, Zivkovic was deported to France.
Links: None
---
Ad blocker interference detected!
Wikia is a free-to-use site that makes money from advertising. We have a modified experience for viewers using ad blockers

Wikia is not accessible if you've made further modifications. Remove the custom ad blocker rule(s) and the page will load as expected.