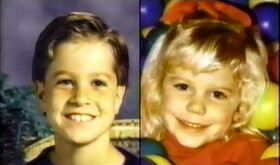 Real Names: Breanna Marie Smith and Ryan Heath
Case: Lost Children
Location: Sacramento, California
Date: September 1992
Bio
Occupation: Students
Date of Birth: July 4, 1981 (Ryan)
Height: Unrevealed
Weight: Unrevealed
Marital Status: Single
Characteristics: Caucasian female. Blond hair, blue eyes (Breanna) / Caucasian male. Light brown hair, hazel eyes (Ryan)

Case
Details: Breanna Smith and Ryan Heath are siblings who have been abducted by their mother and stepfather, Tyger and Archie Hogue. At the time of the abduction, Breanna was six and Ryan was eleven; custody of Breanna was shared between Tyger and Doug Smith, her father. In September 1992, she and Ryan were staying with Tyger and Archie in Sacramento, California. When Doug arrived to pick her up, he found that everyone had vanished. Reflective film was placed on the windows, so he was unable to see inside. The next day, he gained entry into the house and made a home video of the inside. It was in shambles and the floors were littered with debris. He also found passport photos and Visa applications. He talked to the neighbors; one said that they were apparently going to Disneyland, but he believed otherwise. Neighbors also reported that a few days before the Hoags vanished, they held a large garage sale at their home, selling nearly everything. They also sold new items that they had bought on credit in order to have more cash. Archie also quit his job at a local retail store about a week prior to the disappearances. It was obvious that they had planned this in advance.

Doug contacted the Sacramento authorities who immediately began investigating the case. Investigators determined that the Hoags left Sacramento and went to Winnepag, Canada. After that, they were last seen boarding a plane to Amsterdam. It is believed that they went to Amsterdam to get new identities and family disappeared because of allegations made by Tyger's older daughter, Michelle. Two months before the disappearances, she made the allegation that Archie was molesting her.
In Delmar Heights, near San Diego, California, Michelle lived with Barbara Heath, her grandmother and legal guardian. Barbara filed a report with the San Diego police after Michelle came to visit her and told her what had happened. Shockingly, after filing the report, Tyger called Michelle and told her that the molestation never happened, and that even if it did, that she had asked for it or deserved it. Barbara could not believe what Tyger had told Michelle. As a result, Michelle has had to go through intense therapy, believing that her allegations caused her siblings' abductions. She, Barbara, and Doug hope that when Breanna and Ryan are found, she can finally begin to heal and move on with her life.
Tyger was thirty-years old in 1995; her hair is orange, and she has used the aliases Debra Anita Packard, Debra Heath, and Tyger Heath. Archie was twenty-five years old in 1995; he and Tyger may have changed their last names to Haye. Tyger's name is tattooed on his right wrist. Breanna was eight years old in 1995. Ryan was thirteen years old in 1995. Along with Breanna and Ryan, the Hoags are also traveling with their three-year-old son, who may have heart problems.
Suspects: Tyger and Archie Hogue.
Extra Notes: This case first aired on the May 19, 1995 episode. It was presented by KCRA affiliate Sam Shane and KNSD affiliate Rory Devine. It was also featured on America's Most Wanted.
Results: Solved. In 1997, the FBI located Breanna and Ryan in Germany. Further details are unavailable.
Links: None
---
Ad blocker interference detected!
Wikia is a free-to-use site that makes money from advertising. We have a modified experience for viewers using ad blockers

Wikia is not accessible if you've made further modifications. Remove the custom ad blocker rule(s) and the page will load as expected.