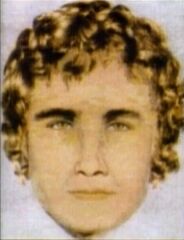 Real Name: Unrevealed
Aliases: None known
Wanted For: Attempted Murder
Missing Since: August 22, 1988
Details: In August 1988, a woman identified only as Carol was shot and nearly killed by a man at point blank range on Brayman Hollow Road near Putnam, Connecticut. As she recalled later, the driver drove a black pickup truck who was driving too slow, then stopped, came around to her car door, and shot her in the face. She was unseen by drivers going by because she was slumped across the seat. A utility truck riding high enough eventually discovered and rescued her. Two drivers from this road also recall seeing the black pickup truck. It was parked off the road and was pulling out every so often checking and inspecting cars that came by as if he was looking for someone. Since Carol worked as a social worker for depressed and mentally ill patients, it's been speculated this person might be someone she knew. He is 5'10", has curly brown hair, with medium build, and would today be in his late 40s or early 50s.

Extra Notes: This case first aired on the January 17, 1990 episode.
Results: Wanted
Links:
---
Ad blocker interference detected!
Wikia is a free-to-use site that makes money from advertising. We have a modified experience for viewers using ad blockers

Wikia is not accessible if you've made further modifications. Remove the custom ad blocker rule(s) and the page will load as expected.