Ad blocker interference detected!
Wikia is a free-to-use site that makes money from advertising. We have a modified experience for viewers using ad blockers

Wikia is not accessible if you've made further modifications. Remove the custom ad blocker rule(s) and the page will load as expected.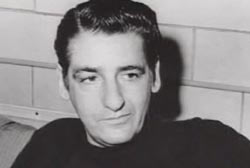 Real Name: Unknown, assumed to be Albert DeSalvo
Case: Serial Killer/Serial Rapist
Date: June 14, 1962 to September 3, 1963
Location: Boston, Massachusetts

Details: Beginning in 1962, thirteen women lost their lives before a figure called "The Boston Strangler", a serial-killer who broke into homes and killed the women in them. The first victim was Anna Slesers, 55, who was strangled with her bath robe and then raped with a blunt object on June 17, 1962. The second victim was Paula Lepro, 57, who was sexually molested and then strangled with nylon stockings on June 22. The third victim was Helen Blake, 65, who was sexually mutilated and then strangled, her bra tied around her neck in the shape of a bow on June 30.

The fourth victim was Nina Nichols, 68, who was strangled and then had her nylon tied in a bow. The fifth victim was Ida Igra, 75, who was sexually molested and strangled to death, found on August 21. The sixth victim was Jane Sullivan, 67, sexually assaulted and strangled with her nylon stockings on August 30. The seventh victim was Sophie Clark, sexually assaulted and strangled on December 6. Patricia Bissette, 23, was the eighth victim, found sexually assaulted and strangled on December 31. The ninth victim was Mary Brown, 69, who was stabbed and strangled to death on March 9, 1963. The tenth victim was Beverly Samans, 23, stabbed to death on May 8. The eleventh victim was fifty-eight-year-old Evelyn Corbin, sexually assaulted and strangled with her nylon stockings on September 6. The twelfth victim was Joanne Graff, 24, found sexually assaulted and strangled on November 23. The thirteenth and final victim, nineteen-year-old Mary Sullivan, was found sexually assaulted and strangled to death on January 4, 1964. More than thirteen murders were blamed on him, the others attributed to copycats. In February 1965, Albert DeSalvo was in Bridgewater State Hospital for sexual assault. He acquainted himself with George Nasser, who was under observation for a violent murder. Nasser believed DeSalvo was the Boston Strangler due to their conversations. DeSalvo confessed to the crimes, hoping to go to a mental hospital instead of prison, in order to get out of his rape crimes. However, DeSalvo was never actually tried for the Strangler killings, but was named the killer. He was tried and convicted of unrelated sexual assault charges, later found dead in his cell from several stabbings in 1973, the same day that he told his psychiatrist that he was going to tell him the truth about the murders. In recent years, closer scrutiny of the case suggests that DeSalvo was not the Boston Strangler but got his facts and notes about the murders from Nasser himself who may have been the real killer. In fact, two survivors of attacks chose Nasser from mug shots as their attacker. In recent years, updated forensic analysis and DNA evidence proved in 2001 that DeSalvo was not the killer of Mary Sullivan, the eleventh victim, proved DeSalvo was not her killer. Casey Sherman, Mary's nephew, has been investigating the case and found several possible suspects in her murder, which include her ex-boyfriend and roommate's boyfriend, along with suspects in the other murders. On the day that the first victim Anna Slesers was murdered, a painting crew was working in her apartment building. Two weeks later, the painting crew was seen at the building of the third victim, Helen Blake, and Casey believes that this is more than just coincidence. Casey found that there was also a possible suspect in the murder of Sophie Clark, a man whom she had once dated that was seen fleeing her apartment on the day of her murder, and he failed two polygraphs. Also, there was a suspect in the murder of Patricia Bisette, her boss, who discovered her body, and had an affair with her. Casey discovered that Patricia was one month pregnant at the time, and there was now a suspect and motive. However, investigation into all of these suspects stopped after DeSalvo confessed to the crimes. The information found by Casey Sherman more than suggests DeSalvo's innocence.
Extra Notes: This case first aired on the May 11, 1994 episode and expanded on June 28, 2002.
Results: Unresolved - On July 11, 2013, Boston police released information that they had discovered DNA evidence linking DeSalvo to the murder of Mary Sullivan. DNA found at the scene was a near certain match to DNA taken from a nephew of DeSalvo. A court ordered exhumation of the body in order to test the DNA correctly. However, DeSalvo's connection to one murder does not confirm his culpability in the other murders.
Links:
---