Real Name: Boo the Dog
Case: Animal Heroes
Location: Uba River, California
Date: July 27, 1995
Details: On July 27, 1995, Lillian Mcdermott was with her Newfoundland dog, Boo, at the Uba River, having him exercise. Meanwhile, up the river, an amature prospector named Link Hill got caught in the current and went down the river. Boo soon saw Link and went into the river trying to reach him.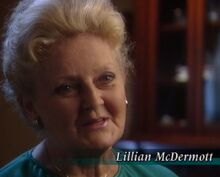 Boo grabbed onto Link's arm and took him back to shore. Lillian soon learned that Link was a deaf-mute and was extremely fortunate for Boo to be there, and probably would have drowned. Lillian and others believe that Boo saving Link was psychic-related.
Extra Notes: The case was featured as a part of the January 3, 1997 episode about animal heroes, along with Oscar the dog and Ringo the cat.
Results: Unsolved
Links: None
---
Ad blocker interference detected!
Wikia is a free-to-use site that makes money from advertising. We have a modified experience for viewers using ad blockers

Wikia is not accessible if you've made further modifications. Remove the custom ad blocker rule(s) and the page will load as expected.