Ad blocker interference detected!
Wikia is a free-to-use site that makes money from advertising. We have a modified experience for viewers using ad blockers

Wikia is not accessible if you've made further modifications. Remove the custom ad blocker rule(s) and the page will load as expected.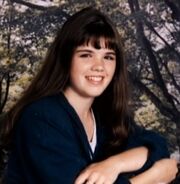 Real Name: Bonnie Craig
Nicknames: No Known Nicknames
Location: Anchorage, Alaska
Date: September 28, 1994

Details: Eighteen-year-old Bonnie Craig was a vivacious and well-liked college freshman who arrived at a bus stop early in the morning of September 28, 1994, heading to an English class at the University of Alaska in Anchorage and then disappeared. Her body was found floating in a creek later that day, and Alaska State Troopers believed she had died in a hiking accident. Her mother, Karen Foster, however, found evidence that she might have been murdered. The case was turned into a murder investigation when it was determined that she had been sexually assaulted. There seemed to be no reasons for her death, but many people believe it might have had something to do with Karen's undercover work with the local police. An informant told her that Bonnie may have been murdered by drug dealers with whom her undercover work was involved.
One year later, a teacher at UAA told Karen she became suspicious of one of her students, suspecting he may have been the killer. She claimed that he was late for school the day of Bonnie's death, and he was wet like he had just got out of a shower. However, DNA evidence and an alibi ruled him out of her case. Karen believed that if there was another person involved the DNA didn't have to be his. Troopers tried to search through the last morning Bonnie was alive and found out that two unidentified men were seen with her shortly before she vanished. Despite this, they did not have any evidence to arrest anyone in connection with the case and her death remained unsolved.

Suspects: It was suspected that Karen's undercover police work may have been the reason for her daughter's death. A drug dealer who had been released from prison the day before the murder was always a suspect in Karen's mind. The student the teacher had contacted her about Bonnie's death was also remained a suspect for Karen.
Extra Notes: This case originally aired on the September 4, 2002.
Results: Solved. In 2008, Kenneth Dion discharged from the army at Fort Richardson was about to be released from the New Hampshire prison system on an Armed Robbery charge when they ran his DNA in CODIS, the national DNA database. Dion was charged with raping and murdering Bonnie Craig after his DNA matched the DNA found on Bonnie on November 30, 2006. He was finally found guilty in June 15th 2011 and sentenced to 124 years in prison October 31st, 2011.
Links:
---