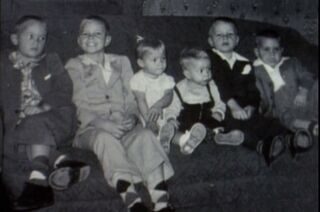 Real Name: Billie and Joey Rogers
Case: Lost Brothers
Location: Locust Grove, Oklahoma
Date: June 1960
Details: In 1960, Tom and Edith Rogers were forced by government officials to give their six children away because they were deemed unfit parents. Six months later, Edith committed suicide by swallowing poison, and her funeral was the last time the six siblings were seen together. In 1984, Ella May, now Cielia Wanger, was reunited with her brother, John Rieger. They began searching for their other siblings, and soon located a brother Robert Pearce in April. A third brother, Vernon, was also located, but the two other brothers, Billie and Joey, have not yet been found.

Extra Notes: This case first aired on the October 18, 1989 episode.
Results: Solved. Both Billie, now Chuck Young, and Joey, now Rusty Dunavant, saw the broadcast and were soon reunited with their brothers and sister. John Rieger passed away in 2006.
Links:
---
Ad blocker interference detected!
Wikia is a free-to-use site that makes money from advertising. We have a modified experience for viewers using ad blockers

Wikia is not accessible if you've made further modifications. Remove the custom ad blocker rule(s) and the page will load as expected.