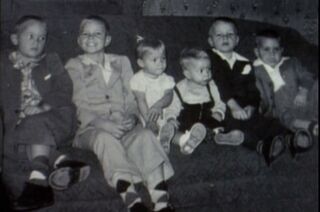 Real Names: Billie and Joey Rogers
Case: Lost Brothers
Location: Locust Grove, Oklahoma
Date: June 1960
Details: In 1959, Edith and Top Rogers lived in a small shack in Locust Grove, Oklahoma, with their six children: Robert, Johnny Lee, Ella May, Vernon, Billie, and Joey. Life was hard for the family; there was little money for even basic necessities such as clothing and food. Tragically, Edith and the children were also abused by Top Rogers whenever he would drink. One night, son Robert tried to defend his mother by picking up a piece of wood and swinging it at his father. However, he missed, and he was beaten by his father as a result.
In early 1960, Edith came home one day and gave the children presents, telling them that it would be one of the last times they'd all be together. She told them that they would be going away soon. In the spring of 1960, the court ruled that Edith and Top were unfit parents. In June, social workers arrived at the Rogers home and took the six children away. They were all taken to a local orphanage.

Six months later, Edith committed suicide by swallowing poison. At her funeral, the six children were brought together for the last time. Her husband Top had recently been arrested in Arkansas for killing a man during a fight. He was escorted, in handcuffs, back to Oklahoma for his wife's funeral.
After the service, the children were once again separated. They were subsequently adopted into six separate families where they were isolated from each other. Twenty-three-years later, Ella May, now Celia Wangler, wrote a letter to the Oklahoma Department of Human Services. At the same time, her brother Johnny Lee, now John Rieger, also wrote a letter to the same organization. On February 10, 1984, the two were reunited in Oklahoma City. Three weeks later, they located their brother Robert; in April, the were reunited with him. A few weeks later, another brother, Vernon, was located.
In April 1984, Robert, John, and Celia decided to go back to their childhood home in Locust Grove. The visit brought back painful memories of the past, including the beatings they suffered from their father. Later that day, the siblings went to the cemetery to find their mother's grave. They discovered that their father had also died eight years earlier.
The siblings hope that they can find their two remaining brothers, Billie and Joey, so that they can bring their family together again.

Extra Notes: This case first aired on the October 18, 1989 episode.
Results: Solved. Both Billie, now Chuck Young, and Joey, now Rusty Dunavant, saw the broadcast and realized that they were the missing brothers. On October 27, 1989, Rusty drove to his sister Celia's home where the siblings were reunited. Interestingly, Rusty lives less than thirty-five miles away from his brother John. They have mutual friends and have even met before; however, until recently they had no idea that they were brothers. Later that day, Chuck arrived at the airport and was reunited with his brothers and sister.
Sadly, John Rieger passed away in 2006.
Links:
---
Ad blocker interference detected!
Wikia is a free-to-use site that makes money from advertising. We have a modified experience for viewers using ad blockers

Wikia is not accessible if you've made further modifications. Remove the custom ad blocker rule(s) and the page will load as expected.