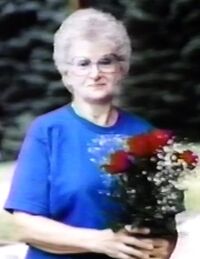 Real Name: Elizabeth "Betty" Landers
Case: Psychic Activity
Location: Unrevealed
Date: Unrevealed

Details: Betty Landers is the birth mother of Don Larkin. Don knew since childhood that he was adopted, but it wasn't until he was 44 that he was able to locate Betty. When he went to her home for the first time, he noticed a carved hummingbird and crystal prism in the window - the same as in the front window of his own house. It is believed that this is part of a strange psychic bond between biological parents and their natural children, even after being separated over a long time.
Extra Notes: The case was featured as a part of a segment on the psychic bonds between parents and children on the October 14, 1994 episode; it also included the stories of Lori Smith and the search of Elizabeth Bersanetti for her father. Betty Landers passed away in 2014.
Results: Unsolved
Links:

---
Ad blocker interference detected!
Wikia is a free-to-use site that makes money from advertising. We have a modified experience for viewers using ad blockers

Wikia is not accessible if you've made further modifications. Remove the custom ad blocker rule(s) and the page will load as expected.