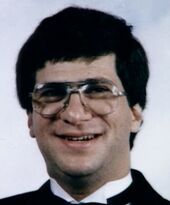 Real Name: Barry Silverman
Case: Unusual Phenomenon
Location: Unrevealed
Date: February 1992
Details: Thirty-three-year-old Barry Silverman died from a virulent form of lung cancer in February 1992. His parents, Kenneth and Harriet, and sister Joy agreed to take part in a session with George Anderson, a psychic who claims to communicate with the dead. Anderson knew nothing about the family, or how Barry passed away.

During the reading, George first mentioned that Kenneth Silverman's father was with him. He then said that their son was with them as well. He accurately noted that his name was Barry and that his death was due to something with his lungs and chest.
He also gave the Silvermans a message from their son: "Now, when you leave here, you leave here with peace. You didn't fail me. Now, you stop feeling guilty. Let that go and put your heart at rest". Barry's family left the session satisfied that they had contacted with Barry from the afterlife.
Extra Notes: The case was featured as a part of the November 18, 1992 episode about psychic George Anderson.
Results: Unsolved
Links: None
---
Ad blocker interference detected!
Wikia is a free-to-use site that makes money from advertising. We have a modified experience for viewers using ad blockers

Wikia is not accessible if you've made further modifications. Remove the custom ad blocker rule(s) and the page will load as expected.