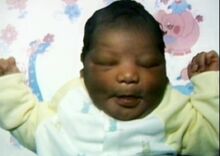 Real Name: Avery James Norris
Nicknames: No known nicknames
Location: Baltimore, Maryland
Date: September 21, 1989

Occupation: None
Date of Birth: September 18, 1989
Height: Unrevealed
Weight: 8 lbs.
Marital Status: Unrevealed
Characteristics: African-american male. Has an oval birth mark on his leg.

Details: On September 21, 1989, new mother Linda Norris was instructed by a woman dressed as a nurse to hand over her newborn son, three-day-old Avery James Norris, to the woman. The woman told Linda that she needed a physical examination done, and that the baby would be placed back in the new baby unit at Sinai Hospital. Linda's baby and the woman vanished. Authorities are now searching for Avery and his abductor.
Suspects: The woman dressed as a nurse that took Avery away from Linda while in the hospital is believed to have abducted him. She is described as a light-skinned black female. She may have been Pakistani or Indian. She is 30 to 35 years old. She weighs 125 pounds, with a stocky build, and shoulder-length black hair.
Extra Notes: This segment was featured as part of the October 11, 1989 episode. The segment was updated on December 13, 1989.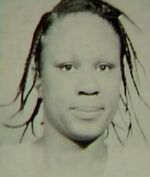 Results: Solved. On November 15, 1989, thirty-three-year-old Carleane Wilkenson applied for a birth certificate for the baby two months after stealing him from the hospital, claiming that the child was hers. Maryland authorities investigated Ms. Wilkenson and found, via a blood test, that the baby was indeed Avery Norris. Avery was returned to Linda Norris and her husband, Douglas. Wilkerson was convicted of three counts of kidnapping and was sentenced to thirty years in prison. She has since been released.
In 1990, the Norris family sued the hospital for allowing the kidnapping to take place.
Links:
---
Ad blocker interference detected!
Wikia is a free-to-use site that makes money from advertising. We have a modified experience for viewers using ad blockers

Wikia is not accessible if you've made further modifications. Remove the custom ad blocker rule(s) and the page will load as expected.