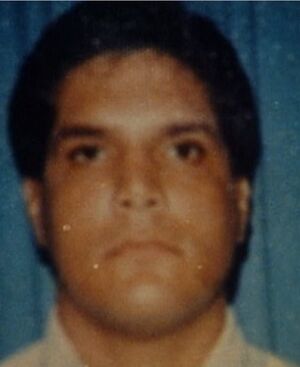 Real Name: Armando Garcia
Aliases: None Known
Wanted For: Drug-Trafficking, Conspiracy to Commit Murder
Missing Since: May 1986
Details: Armando Garcia was a rogue Miami police officer who began confiscating drugs from people whom he arrested and kept them for himself. He and several other officers then busted six men who were involved in distributing cocaine, three of the men would drown while trying to escape from the officers. Garcia and several other officers were arrested on corruption charges, and soon planned to kill witnesses to their corruption-related crimes. In January of 1986, Garcia and several other officers posted bail and began their plans to kill the witnesses. However, several problems occurred in the hired murders, and none of the witnesses were harmed. Garcia and the other officers case, however, ended in a mistrial. Despite this, police now had new charges to file against them, mainly conspiracy to commit murder. In May of 1987, Garcia went on the run and has not been seen since.
Extra Notes: This case first aired on the January 12, 1994 episode. Garcia was also profiled on America's Most Wanted.
Results: Captured. Garcia was arrested in January of 1994 in Cali, Colombia, along with his father, and one of his accomplices. He served time in Federal prison, and was released in 2006.
Links:
---
Ad blocker interference detected!
Wikia is a free-to-use site that makes money from advertising. We have a modified experience for viewers using ad blockers

Wikia is not accessible if you've made further modifications. Remove the custom ad blocker rule(s) and the page will load as expected.