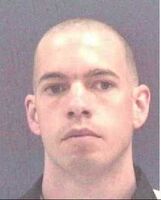 Real Name: Andrew Allen Cook
Aliases: Andy Cook
Wanted For: Murder
Missing Since: 1996

Details: Twenty-two-year-old Andy Cook is wanted for the brutal murders of Grant Hendrickson and Michelle Cartagena, who were found shot to death in the latter's car on January 3, 1995. They had been stalked the previous night by a Honda CRX that was later seen driving away from the scene of the murders. For nearly two years, investigators checked the records of every major pawn shop and gun dealer within 150 miles of Macon. They interviewed every person who had sold or pawned a Colt AR-15. After over 2000 leads, investigators received a break. After following up on pawn shop records, an investigator questioned Cook. Cook acted suspiciously during his interview, so they decided to investigate him more thoroughly. They discovered that he owned a Honda CRX similar to the one described by eyewitnesses. They also learned that he had recently quit his job and left his home. Investigators are now searching for him.
Extra Notes: This case first aired on the September 27, 1996 episode, while the update about how Cook was tied to the murders but had vanished first aired on the February 14, 1997 episode.
Results: Captured. On December 5, 1996, Cook was arrested in a nearby wooded area. After the arrest, his father told investigators that Cook had confessed to the murders; the couple were apparently random targets. Ballistic testing determined that slugs from his rifle matched those found at the crime scene. Finally, DNA testing connected tobacco spit on Michele's leg to Cook. Cook was arrested and charged with both murders. He was tried, convicted, and sentenced to death. After a final appeal for stay of execution was denied by the U.S. Supreme Court, he was executed by the State of Georgia, at 11:22pm on February 21, 2013.
Links:
---
Ad blocker interference detected!
Wikia is a free-to-use site that makes money from advertising. We have a modified experience for viewers using ad blockers

Wikia is not accessible if you've made further modifications. Remove the custom ad blocker rule(s) and the page will load as expected.