Real Name: Alexander (last name unknown)
Case: Lost Friend
Location: Moerlenbach, Germany
Date: March 1945

Details: Siegfried Laier was a four-year-old boy in Germany during the last days of World War Two. In the devastation, he and his sisters were taken by their mother 100 miles away to the village of Moerlenbach where they encountered American GIs providing food and medical supplies. In March of 1945, he befriended an American G.I. named Alexander who took special interest in him and his family and made sure they got the help they needed.
On several occasions, Alexander came to visit Siegfried and his family. He brought them food and supplies from the Army that helped them to survive. He also came every day to pick Siegfried up and take him to school. He also brought Siegfried with him on drives around town. On certain drives, Alexander even let him "drive" the jeep.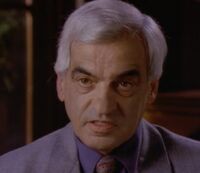 The two became great friends, but they became separated when Alexander shipped out of Germany. All he has is a photo to remind him of his family's friend, and he hopes to someday see him again. In 1945, Alexander was around the age of twenty; today, he would be in his nineties. He was part of an Army unit that marched into Morelenbach on March 27, 1945. While there, the soldiers were housed at the Grunebaum Guesthouse.
Extra Notes: This case first aired on the October 9, 1994 episode.
The actor who played Alexander in the re-enactment is David Ramsey, who plays John Diggle on the WB Show "Arrow".
Results: Unsolved
Links:
---
Ad blocker interference detected!
Wikia is a free-to-use site that makes money from advertising. We have a modified experience for viewers using ad blockers

Wikia is not accessible if you've made further modifications. Remove the custom ad blocker rule(s) and the page will load as expected.